Zwei Studierende der Friedrich-Alexander-Universität Erlangen-Nürnberg sammeln als Junior-Entwickler praktische Erfahrungen bei TRIBAR. Wir haben mit ihnen über ihre Eindrücke gesprochen, über Eindrücke, Visionen und Herausforderungen.
Eman kommt aus Pakistan, er, Karthikeyan, kommt aus Indien. Sie studieren seit Oktober 2022 in Erlangen. Im Frühling 2023 kamen sie zu TRIBAR. Doch bevor sie unsere Fragen beantworten, stellen sie sich kurz selbst vor.

 I, Eman Khadim, student of Friedrich- Alexander University (FAU) doing my MSc in Artificial Intelligence since October 2022. I'm a junior software developer at TRIBAR. My role involves collaborating with the team to create innovative solutions using AI technologies. This role allows me to apply my academic knowledge in practical situations. I am enthusiastic about this opportunity to make a meaningful impact at TRIBAR while furthering my education in the field of AI.
I, Karthikeyan Balaji, originally from India. I embarked on my Data Science master's journey at Friedrich-Alexander-Universität Erlangen-Nürnberg in October 2022. Thrilled to have recently joined the TRIBAR Family as a junior software developer, I'm excited to merge my technical curiosity with real-world projects.
Wie fühlt ihr euch bisher im Team? Gibt es etwas, das euch als Junior-Entwickler besonders positiv aufgefallen ist?
Karthikeyan Balaji: I have been part of the TRIBAR team as junior developer since May,2023. It has been an exciting journey so far, and I have felt welcomed and supported by the entire team. The positive and collaborative atmosphere here has been particularly impressive. Everyone is always ready to lend a helping hand and share their expertise, one aspect that has stood out to us is the eagerness of team members to mentor and support us in our professional growth.
Eman Khadim: I have been a part of the company for the past three months. I joined Tribar team as Junior developer with enthusiasm and strong drive to contribute. The team's collaborative spirit and willingness to knowledge have struck as me as particular positive aspects. It's refreshing to be a part of a company that values open communication and supports each other's growth.
Ihr sammelt hier als Junior-Entwickler erste Berufserfahrungen. Habt ihr bisher schon eine Gelegenheit gehabt, eure theoretischen Kenntnisse in praktischen Situationen anzuwenden? Wenn ja, wie war das für euch?
Eman Khadim: Yes, I've had the exciting opportunity to apply my theoretical knowledge in practical situations during my time here. It has been a valuable learning experience, allowing me to see how concepts from my studies translate into real world projects. I have found the process both challenging and rewarding, as I've been able to contribute innovative solutions to actual business needs.
Karthikeyan Balaji: Absolutely, gaining practical experience has been a rewarding aspect of our time here. We have had the opportunity to apply the theoretical knowledge we gained during our studies in real-world scenarios. It has been quite enlightening to see how concepts learned in the classroom translate into practical solutions that contribute to the team's projects.
Mit welchem Projekt (welchen Projekten) beschäftigt ihr Euch aktuell?
Karthikeyan Balaji: Currently, we're immersed in an incredibly exciting project called 'Intelli-trend' that involves building an API designed to Automate the hiring process. This project leverages cutting-edge Machine Learning (ML) models and data science techniques to automate various aspects of the hiring process. By harnessing the power of AI, we're working to streamline candidate assessment, improve decision-making accuracy, and enhance the overall efficiency of the recruitment process. It's an endeavour that not only challenges us to push our boundaries but also underscores the significant impact technology can have on HR practices.
We're truly enthusiastic about the potential this project holds to transform the way organizations approach hiring, and we're dedicated to creating an API that's not only technically robust but also user-friendly and intuitive. The collaborative nature of the team and the mentorship we receive here at TRIBAR are proving invaluable as we navigate through the intricacies of machine learning, software development, and data integration.
Eman Khadim: I'm actively involved in a project focused on automating the hiring process for various companies. This innovative product leverages AI and data science techniques to streamline and enhance the recruitment process. It's a project that perfectly aligns with my academic pursuit of a Masters in Artificial Intelligence, allowing me to apply my theoretical knowledge to practical, real-world applications and contribute to a meaningful technological advancement.
Welche Erfahrungen habt ihr hier bei TRIBAR  gemacht, die euch besonders beeindruckt oder begeistert haben?
Eman Khadim: While my time here has been relatively short. I've been genuinely impressed by the collaborative and supportive environment at TRIBAR. The team's willingness to share knowledge and work together to overcome challenges has been truly inspiring. Additionally, witnessing the application of cutting edge-AI and data science techniques in real world projects has motivated me to further expand my skills and contribute ton innovative solutions.
Karthikeyan Balaji: Throughout our time at TRIBAR, we have been truly impressed by the team's dedication to innovation and problem-solving. Witnessing the synergy between different team members and their unique skills has been both inspiring and motivating.
Teamspirit steht bei TRIBAR ganz oben. Wie erlebt ihr den Teamgedanken?
Karthikeyan Balaji: The Team sprit at TRIBAR is truly exceptional. It is evident in the way everyone values open communication, knowledge sharing and mutual support. We feel like an integral part of a tight/knit community that is always eager to help one another succeed.
Eman Khadim: It's exceptional here. The willingness to share knowledge, provide support and work together to achieve common goals reflects a strong team spirit. This positive atmosphere not only enhances our productivity but also makes for a fulfilling and motivating work experience.
Ihr studiert an der FAU Erlangen-Nürnberg. Was hat Euch motiviert gerade hier zu studieren. Und welche Ziele habt ihr für eure Zeit in Erlangen und bei TRIBAR im Team? Gibt es bestimmte Dinge, die ihr gerne erreichen möchtet?
Eman Khadim: Friedrich- Alexander University (FAU) is considered one of the top universities in Germany and has a strong reputation for its research and academic programs. I chose FAU University for my master's studies because of its impressive AI research labs. The opportunity to engage in projects involving AI in healthcare, autonomous driving, natural language processing and robotics and automation and collaborations with renowned companies like Siemens, Fraunhofer greatly influenced my decision. These achievements highlight FAU's commitment to pushing the boundaries of AI research and application, making it an attractive choice for students like me who aspire to be at the forefront of technological innovation.
I aspire to further develop my AI skills and knowledge through the experience, collaborating with the team on challenging projects. I look forward to learning from the experienced professionals in the team, gaining insights into best practices and honing my abilities through valuable mentorship. Overall, my time here is dedicated to advancing my AI career, making significant contribution, continuous learning and contributing to the overall growth and success of the team and the organization.
Karthikeyan Balaji: Studying at FAU Erlangen-Nuremberg offers a dynamic academic environment that fosters growth and learning. The university's reputation for excellence in Artificial Intelligence and Data Science field motivated to choose this institution for my Master's studies.
During my time in Erlangen and with the TRIBAR team, my primary goal is to further develop my technical skills and gain practical experience in software development. I aspire to contribute meaningfully to ongoing projects, collaborate on challenging tasks and continuously learn from our experienced colleagues.
Gibt es besondere Herausforderungen, denen ihr bisher begegnet seid? Allgemein und im Besonderen bei uns?
Karthikeyan Balaji: As Junior developer, the learning curve has been steep, but it is a challenge we're eager to take on. Adapting to real-world development practices and coordinating within a professional environment initially presented some challenges. However, with guidance from the TRIBAR team, we have been able to overcome these hurdles and are continuously improving.
Eman Khadim: As this is my first experience working as a junior developer, I've encountered challenges that are common to anyone entering a new role and industry. These challenges include adapting to new technologies, workflows and team dynamics. However, these challenges have presented valuable opportunities for growth and learning and I appreciate the supportive environment that allows me to overcome them effectively. The challenges I've encountered have been essential in honing my skills and enhancing my contribution to the teams' goals.
Wenn ihr einen Wunsch frei hättet: Was würdet ihr Euch wünschen?
Eman Khadim: If I had one wish, I would wish for a world where technological and innovation is harnessed to address societal challenges and make a positive impact. I believe in the potential of technology to drive progress, and my wish would be to contribute my skills and expertise towards creating solutions that benefit not only businesses but also the broader community and environment. This aligns with my passion.
In closing, I want to express my gratitude to TRIBAR for giving me the incredible opportunity to be a part of this dynamic team. I am truly thankful for the trust you have placed in me and for providing an environment where I can contribute, learn, and grow. Joining TRIBAR has been a privilege, and I am excited to continue making meaningful contributions while embracing the exciting journey ahead.
Karthikeyan Balaji: If I had one wish, it would be for continued growth and success for ourselves, our team, and the projects we are involved in. We are excited to see how far we can go and the impact we can make.
Thank you for having us at TRIBAR and giving us this wonderful opportunity to learn, contribute, and thrive!
Und wer jetzt Lust bekommen hat, auch bei uns zu arbeiten, kann gerne auf unsere Karriereseite schauen und sich bewerben. Wir freuen uns auf ein Gespräch und einen anregenden Austausch.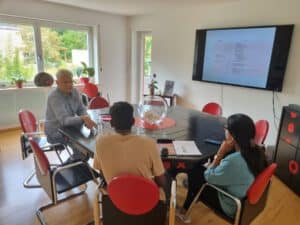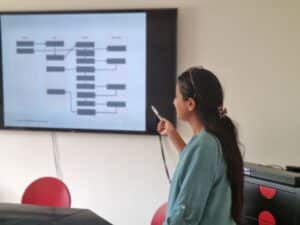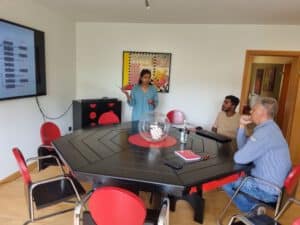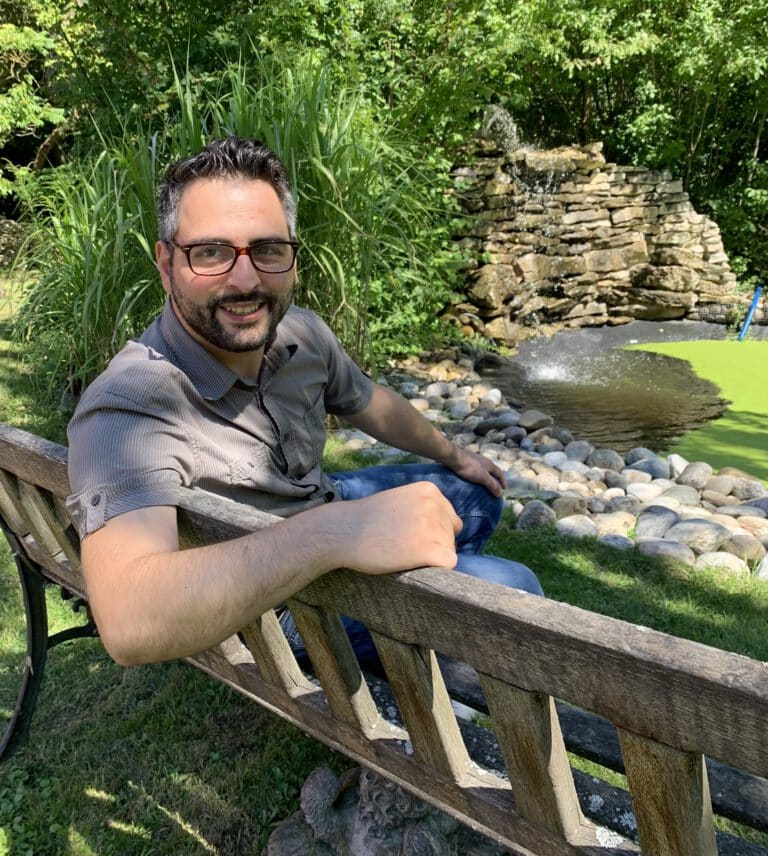 Cengiz Ketecioglu, Geschäftsführer von TRIBAR, im Gespräch über Visionen, Erfolge und Mindset.
mehr lesen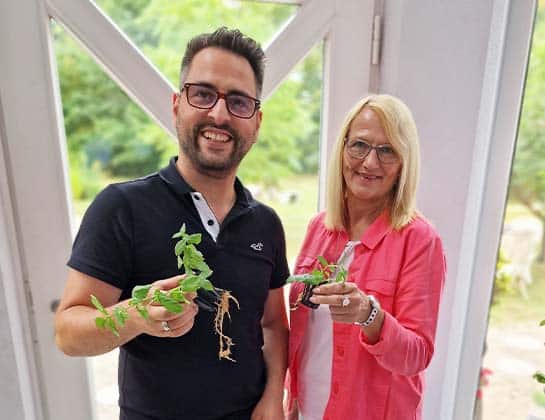 Der Hydroponik-Turm bei TRIBAR liefert nicht nur frisches Gemüse und leckere Kräuter, er hilft auch den CO2-Fußabdruck zu verbessern.
mehr lesen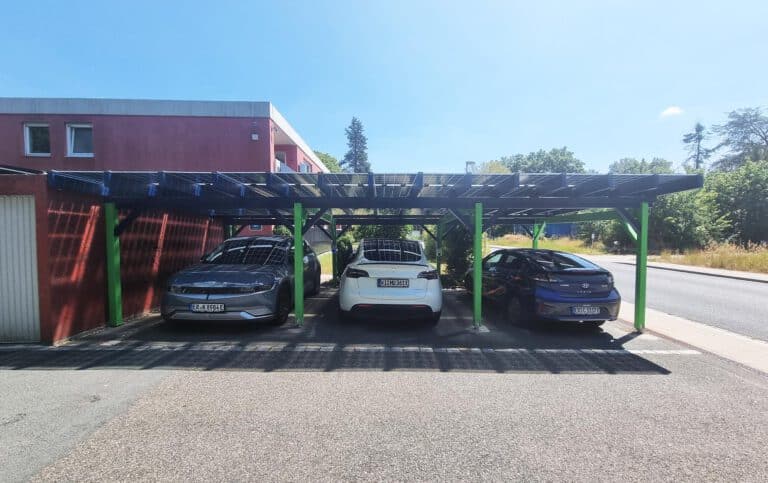 Die Softwareexperten von TRIBAR bauen ihr nachhaltiges Engagement aus. TRIBARpower, die E-Ladesäulen auf dem Unternehmensgelände, ermöglichen während der Geschäftszeiten kostenfreies Stromtanken für jeden.
mehr lesen